Backsplash Tile
At Mazzullo & Sons Carpet One Floor & Home in Oneida, our tile experts are here to bring your kitchen or bathroom to life with the use of tile backsplash. With affordable solutions, we can design your kitchen or bath from top to bottom and take your breath away with the results. As the focal point of many remodels, tile backsplash proves to be a personal, affordable touch to any kitchen or bathroom project.
Create a Custom Backsplash
Show off your personality by installing a custom backsplash. If you don't know where to start, begin by looking at design blogs or books. Getting ideas from these platforms and combining them with your particular favorites will make for a one-of-a-kind kitchen or bathroom backsplash. Keep in mind that décor can be changed around whatever you choose, so try not to take yourself too seriously. Selecting a backsplash should be a fun and exciting time.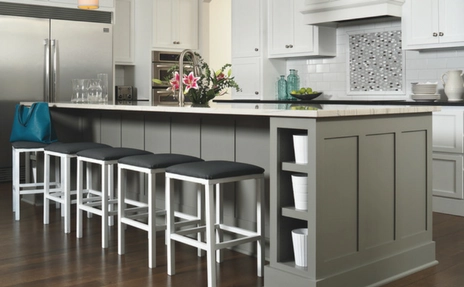 Durable Protection
Tiles were built with durability in mind. Constructed using high heat, they withstand being walked on, are ideal for bathrooms and kitchens due to their moisture-resistant nature, and protect walls against splatters and spills. There is no need to worry about the accidents that could happen because tile is unlikely to crack or chip. With tile you can have peace-of-mind wherever you choose to install it.
Easy Maintenance
Keeping tile backsplash clean is a simple process. Tile is naturally low-maintenance, so wiping up spills or splashes occasionally is recommended. We also recommend thoroughly cleaning tile and grout lines when needed to keep them looking their best for years to come.